2022 Long Beach Polar Bear Splash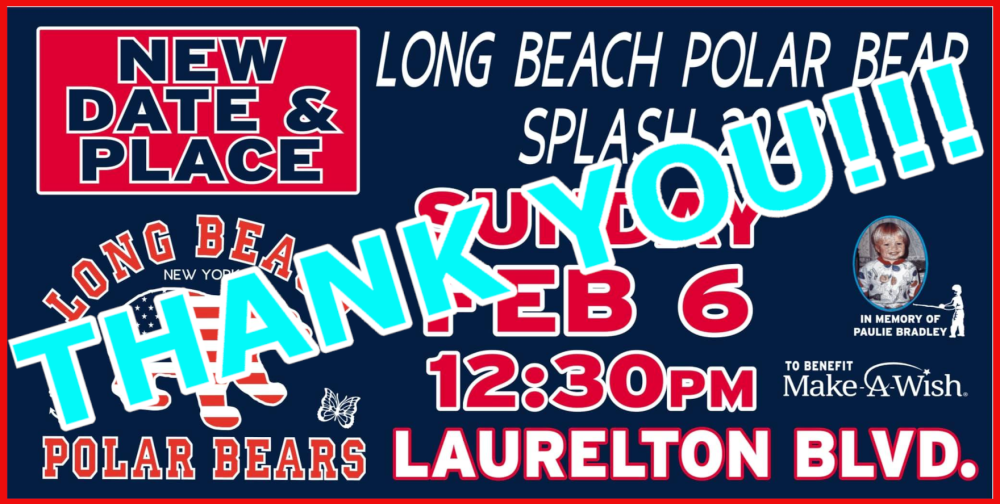 A Huge Thank You to all the Participants, Teams, Volunteers, and Donors of the 2022 Polar Bear Splash! With your help this year, we've raised over
$450,000(and counting)
for Make-A-Wish Metro New York!


Every year we're truly in awe of the amount of generosity and love you all show to our event. We could never imagine 22 years ago what our humble little swim would turn into today!
The dedication of everyone involved is inspiring and drives us to make each year bigger and better than the one before. It is because of all of you that we're able to continue with our mission to grant as many wishes for local kids as possible.
So from the bottom of our hearts, we send you all our most sincere love and gratitude for helping us to support a cause so near and dear to us all.

Thank you, and we'll see you on the beach again in 2023!


For Post-Swim apparel sales, please see our SHOP NOW page for ordering information.

For those of you who missed the event this year, please see the City of Long Beach's post regarding Super Bowl Sunday.
As always, thank you for your continued love and support!

The Polar Bears are motivated by camaraderie, a touch of madness and a common goal: To honor the memory of Paulie Bradley and to keep his young spirit alive in others.
The Annual Super Bowl Splash is held in honor and loving memory of young Paulie Bradley, who passed away at the age of 4 before being able to receive his wish. Through their annual, community-driven Super Bowl Splash, the Long Beach Polar Bears have helped to make hundreds of heartfelt wishes of children with critical illnesses come true.